bookaddict88
What follows is a "quick" recap of the lase few weeks of my study abroad trip. I wrote it Saturday, but as I've been pretty internet-less, I'm only getting to posting it now! Here it is:
Well, I've been home a month now, and am only now getting to posting about the rest of my trip! Basically, volcanoes and train strikes kept me on my toes, but I still had a great time.
I arrived in Tours with no problems on the night of April 14, checked into my hotel, and then spent the next morning exploring the city. So far, so good. Since I was in the Loire Valley to see castles, I decided to go take the train to Chenonceau that afternoon. So, I check train schedules, hop on the train, and spend a couple hours wandering around the castle and grounds. Then I head back out to the train platforms to catch the train back to Tours. THAT'S where I ran into the problems. Apparently, only certain trains were running, and since I don't read French, I failed to see the signs saying which ones were still in service. Thankfully, a couple of hours later (which I spent doing a lot of nothing, since I couldn't go back into the castle and the town was teensy), a bus comes by, which other tourists inform me is taking the place of the train.
The Gardens at Chenonceau
Now all of that wouldn't be such a big deal, except that it means I missed the last train to Blois, which was supposed to be my destination for the night. This meant that I was stranded in Tours with nowhere to stay. I stayed in McDonalds until closing, using their free WiFi, and debated sleeping in the train station. After all, I was already paying for a hotel in Blois that I wasn't using (they made me pay two nights, too, when I was only supposed to have to pay for the first if I cancelled), and I didn't want to have to pay for yet another hotel. Finally, though, I decided it was probably best to shell out the money, for the safety of myself and my possessions. Not to mention I would be able to continue using the internet. ;) So, I find a cheap hotel with free WiFi online, and check in (an interesting process when the receptionist only spoke French!), and then head to Blois in the morning.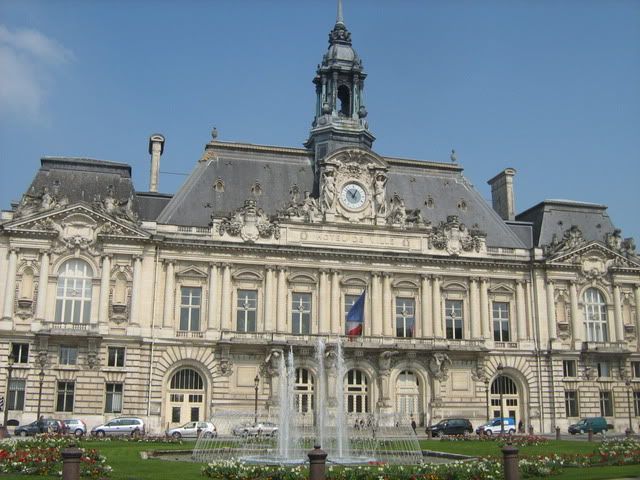 Hotel de Ville in Tours
Blois ended up being awesome, mostly because I was CouchSurfing again. My host, Deborah, showed me around the city and the castle, telling me all sorts of historic details. She also made me dinner (which of course, included cheese!), introduced me to her friends, and helped me figure out how to take a day trip to get to two other castles, Cheverny and Chambord. Chambord was the most spectacular of the castles I visited, at least from the outside, while Cheverny (the inspiration for Marlinspike Hall in the Tintin comics) had a beautiful interior.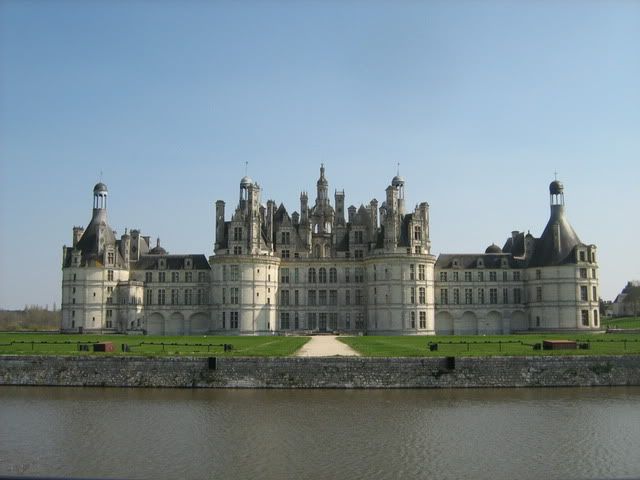 Beautiful Chambord
Sunday, April 18, I headed to Paris. I was supposed to meet my mom there, but due to the volcano, she ended up being unable to make it for another week. (At least she made it at all! Her flights kept getting canceled last minute, and for awhile she was unsure if it was worth coming anymore.) I spent two nights in the B&B we'd booked in Paris (really just a guest room in a flat), and found Paris is a rather lonely place by yourself, particularly if you've been there before. I did, however, meet two girls from London on a Montmartre tour the second evening, and we had a lovely time chatting and eating dinner together.
Moulin Rouge
Tuesday, it was time to head back to Maastricht. My train to Lille was filled to the brim (they were selling tickets without seats, even) , mostly with British people heading to Calais, so they could take the ferry back. So many stories of people doing all sorts of things to travel despite the volcano! In fact, some people on my study abroad trip ended up going home a week late, because they couldn't make it back to Maastricht in time. My time in Maastricht was mostly filled with packing, though it was also fun catching up with people and all their travels.
Maastricht, the Netherlands
Most of the rest of my study abroad group was leaving on Thursday, so I headed to the airport in Amsterdam with them at an insane hour in the morning. From the airport, though, I went to meet my CouchSurfing host, Josie. Josie, who's an au pair from Brazil, was yet another amazing host, and since she was closest to my age, probably the one I most enjoyed hanging out with. I explored Amsterdam with and without her (since she also had to work), visiting lots of great museums, including the Van Gogh Museum and the Anne Frank House.
Josie and Me in Amsterdam
Then it was Saturday, and I flew to Dublin. I hung out at the airport for several hours, and then finally met my mom! I showed her around Dublin and then Edinburgh, both of which I'd been to before, though of course, we also made sure to do things that were new to both of us. London was next, and it was supposed to be our final destination, but since my mom arrived late, we'd postponed our trip home by several days. During those few days, we also visited Shakespeare's birthplace, Stratford-upon-Avon. Such a cute town! Seeing as my mom and I both love shows, we made sure to see quite a few of them while together. We saw three musicals: Les Miserables in Edinburgh and Legally Blonde the Musical and Oliver! in London. We also attended Macbeth at the Globe in London, and saw a understudy performance of King Lear in Stratford-upon-Avon. So much fun!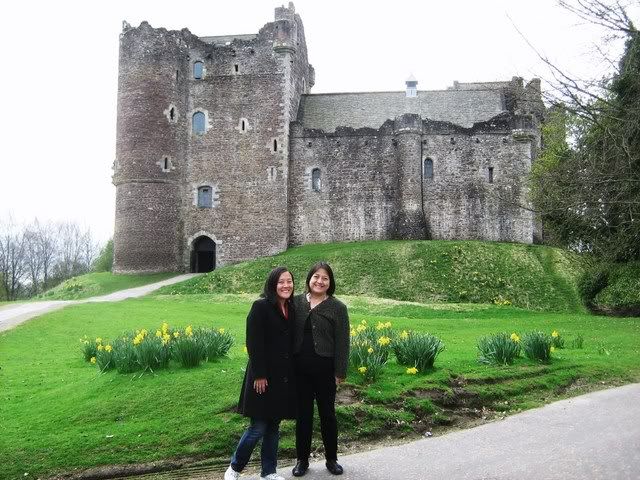 My mom and me in front of Doune Castle, a castle in Scotland
used as a set for
Monty Python and the Holy Grail
Not much has happened this last month, but tomorrow, I'm off to Tulsa to begin my training with Teach for America!