bookaddict88
Here's the blog post I wrote on the train Wednesday afternoon (you'll have to wait until the next blog post to hear about today's adventures!):
I'm over halfway through my month of travel already! I can't believe how fast time is flying by. It's been pretty amazing traveling throughout Europe. Finals went well; nothing was too hard. The one setback was that I didn't finish my 12-page philosophy paper before I left. It wasn't due until two weeks after my last class, but I didn't want to have to do it while traveling, particularly since that meant I had to drag my laptop and books along. On the bright side, having my laptop has been kind of nice, and it's the reason I can write this blog post on my way to Tours, France!
My travels started on Thursday, March 25th, when my roommate Victoria and I took a train to Munich, Germany. We stayed there for three nights. The first day, we took a free walking tour, with the same company I'd used in Prague and Berlin. As usual, the tour guide was awesome! That night, I had a great German meal…and bought shoes, since my tennis shoes were pretty dead by then. The next day, Victoria and I took a train to Fussen, seeing beautiful scenery on the way. From there, we took a bus to see Ludwig's castles, Neuschwanstein (the inspiration for one of Disney's castles) and Hohenschwangau .
Hohenschwangau Castle in Germany
The next morning, we headed on to Salzburg! Salzburg is such a lovely city in lovely surroundings. That first afternoon, we took the
Sound of Music
tour, which took us to see some of the places used in the filming of the movie. It was really neat to see such things as the house used as the back of the Von Trapp house, and the church used in the wedding. My favorite part, though, was just driving through the area! For that reason alone, the tour would have been worth the price, even if I knew nothing about the
Sound of Music
. The following day, Victoria left in the morning for Vienna and Rome, while I walked around the city a bit more. I walked up to the fortress and saw some great views of the city, passed by Mozart's birth house, and just enjoyed the city.
The hills are alive with The Sound of Music!
That night, I met my CouchSurfing host, Sabine, in Vienna. I'm not sure I've ever seen such beautiful buildings in one city as I did in Vienna. It's such a clean, well-kept, and beautiful city. Sabine showed me around some and introduced me to her friends and family. Along the way, we had some awesome conversations, as we're interested in a lot of the same issues, and she's so well-read! She did have some other obligations while I was there, so I took the time to do some sight-seeing on my own. This included going to see A Midsummer Night's Dream at the opera house. I loved it, and my standing room ticket only cost 3 euro!
Schönbrunn Palace in Vienna, Austria
Then, on April 1 (Green Thursday! To follow tradition, we had spinach for lunch with Sabine's family), I took a night train to Venice. Once in Venice, I met Cherokee (her camp name, since her real name is Victoria and that would be confusing), a friend of mine from the camp I worked at last summer. She's studying abroad in Europe, and was currently in Venice for the week. She took me back to the flat where she and her classmates were staying, and I took a shower while she had her one real class of the day. Then, I joined her study abroad group in visiting a church, and then going to Lido, where she had another class…which was just twenty minutes of reading poetry on the beach. We hung out at Lido for awhile, enjoying the beach (though it was too cold for most of us to go in), eating lots of gelato, and renting those square bicycles for an hour. That night, Cherokee took me to see a couple of the major sites (including the view from Rialto Bridge at sunset), and then treated me to a yummy Italian dinner, over which we caught up on each other's lives. The next day, we mostly just got ourselves lost in the city, which is a really fun thing to do in Venice. After all, you're on an island, so you can't get TOO lost! Plus, it was the Saturday before Easter, and it was a great way to avoid the crowds. I fell in love with the city while there, but all too soon, it was time for me to make my way to Florence.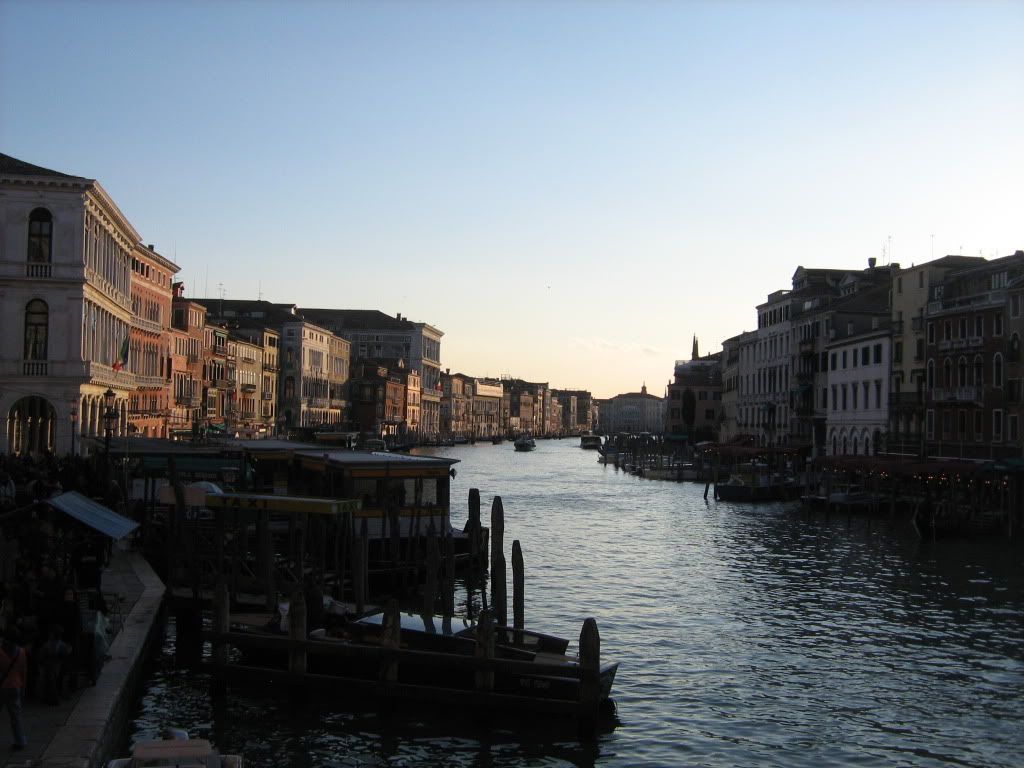 Venice as seen from the Rialto Bridge at sunset
In Florence, I met Victoria once again. The next morning, I got up in time to enjoy the
scoppio del caro
, Florence's big Easter celebration. They have a procession that goes through the streets to bring an oxcart to the Duomo. The oxcart is absolutely loaded with fireworks when it gets there, and then in the middle of the service inside the church, the Archbishop lights a rocket dove, which goes down a line through the church to the cart outside, setting off a spectacular fireworks show! It was pretty incredible to see…though afterwards, it was difficult making my way through the crowds back to my hotel! That day was rather rainy, so we did do some sightseeing, but mostly hung out with an American guy we met while at the Piazzale Michelangelo. The next day, I visited Siena for a few hours on my own, then had an amazing Italian dinner. Victoria left the next morning, but I stayed around until the evening, doing some final sightseeing before heading to Milan.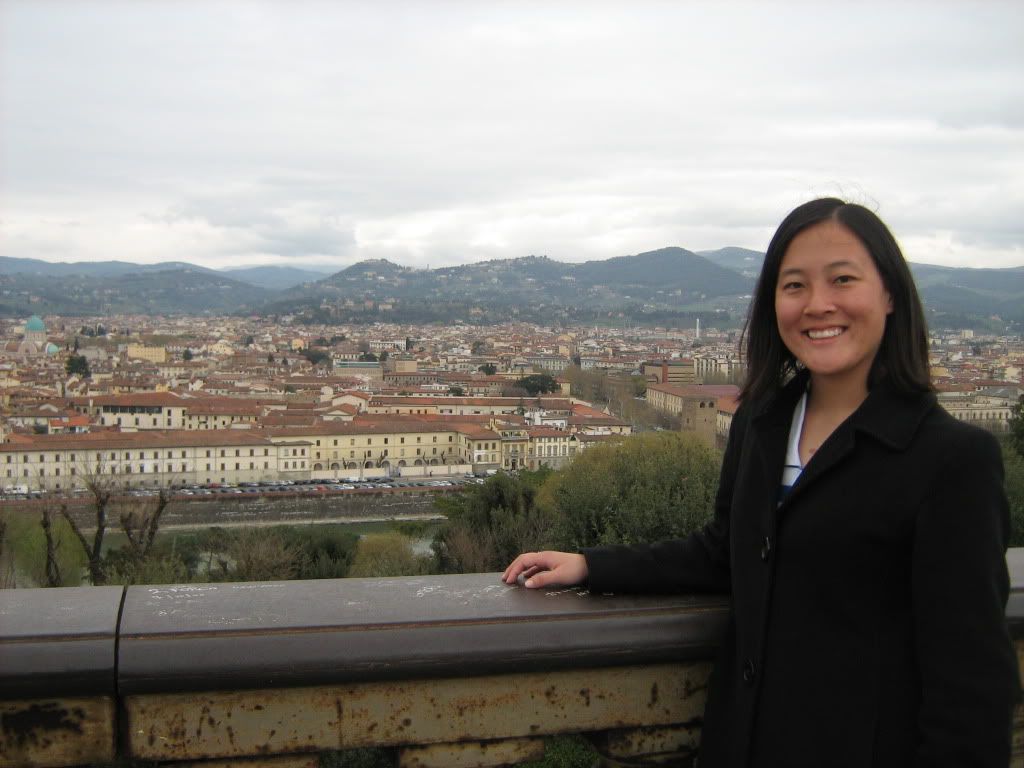 View over Florence, from the Piazzale Michelangelo
I spent one night in Milan, mostly writing that paper that of course, I hadn't started until then. I wrote furiously in my hotel room, got a few hours sleep, wrote some more, then had to check out of the hotel. So I checked out, found a park, and wrote the rest of my paper, returning to the hotel to use the internet and turn it in at last. With that turned in, I am now finished with all of my undergraduate coursework!!! I can hardly believe it. Anyway, I explored the cathedral and a few other sites in Milan, lugging my backpack around the entire time (except for the time when I took a risk and left it outside, so I could run through the cathedral, since they wouldn't let me bring it in.) That evening, I spent a few hours at Varenna, on Lake Como. It was a bit hazy out, but it was still beautiful, and it was nice to just sit by the lake and people-watch. I spent that night in the airport in Bergamo, trying to get some sleep. It was difficult, because they were fixing some things up, and made me change seats every few hours as they moved through the airport!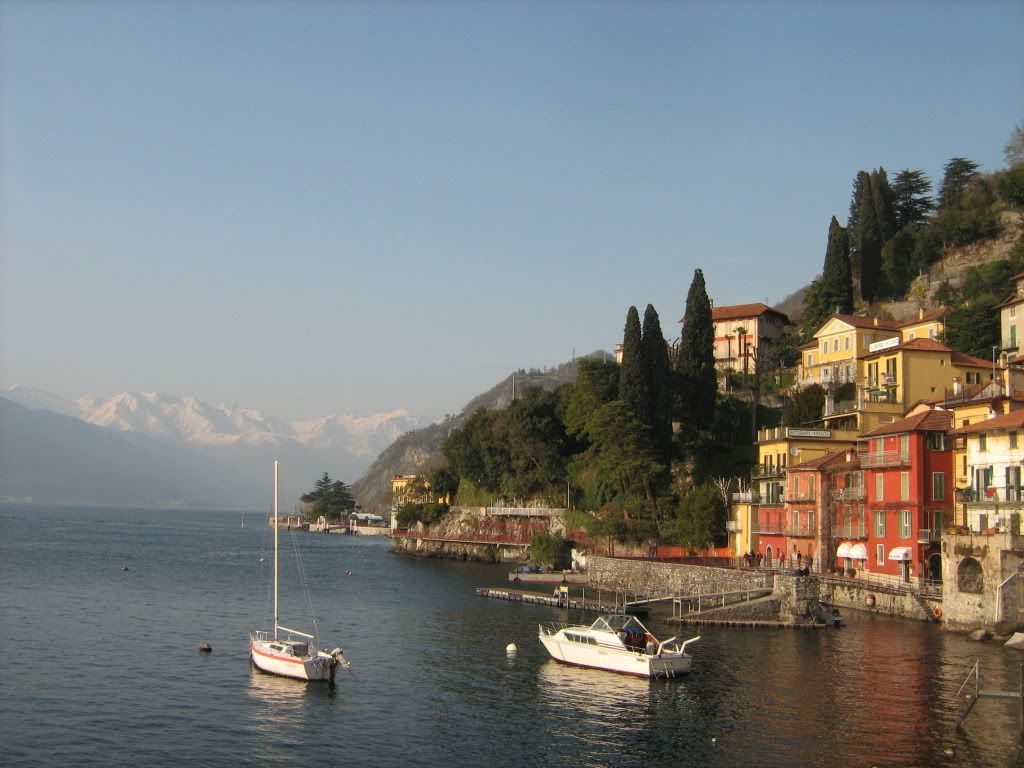 Lake Como, Italy
The morning of April 8th, I arrived in Madrid! It was so awesome (and a bit weird) to be visiting again for the first time since I left in Dec. 2008, when I finished my study abroad there. I got to hang out with friends and reacquaint myself some with the city. I was there until Sunday, but that was hardly enough time! I'd forgotten just how much I love Madrid, and my friends there. It was weird, though, to know that most of my friends I'd made on my study abroad trip weren't there, since they'd just been studying abroad like me.
Sunday afternoon, I made my way to Seville, which I'd decided to visit since I hadn't seen it the last time I was in Spain. Seville was AWESOME. I loved the hostel I stayed at, met some really neat people (from all over the world, though most happened to be Canadians), and really liked the city. That first night, my hostel had an event where they took us to go get yummy tapas and then see a free flamenco show at a bar. The next day, I went on a free walking tour, also organized by the hostel. I then grabbed tapas for lunch, went inside the cathedral (the third largest in the world, and the largest gothic cathedral!), and saw the Plaza de España, which is still beautiful even when half of it is being renovated. That evening, I wanted to see a flamenco show, but tickets were sold out, so I ended up playing cards (Egyptian War; such a great card game!), drinking a glass of sangria, and just hanging out with people at the hostel. Yesterday morning, I saw the Real Alcazar, the beautiful, Moorish-style palace near the cathedral. And since I was a student, it was free! Then it was back to the hostel, to grab my stuff, and make my way back to Madrid. I wish I hadn't messed up my train reservation. I'd originally meant to stay a day longer in Seville, and I could have happily stayed for even a day or two more than that!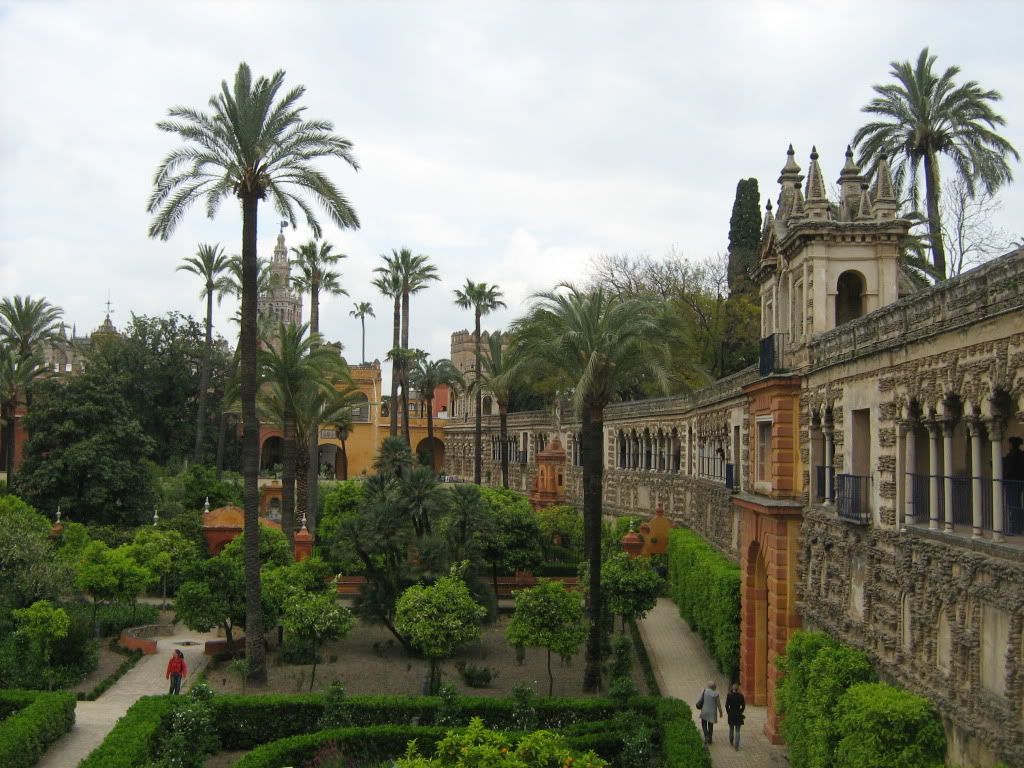 The gardens of the Real Alcazar in Seville, Spain
Last night, I spent some time frantically planning these next few days, since I really hadn't had much planned. I'd planned on CouchSurfing, but though I contacted a dozen people, it doesn't seem to be working out. Also, there are train strikes going on in France right now, and after hearing that some of my friends had been stranded in Barcelona, I was worried I'd be stranded somewhere on route to Tours. I considered staying in Spain, but in the end, decided to go to France and take whatever adventure befell. I booked hotels, since there don't seem to be many hostels in France outside Paris, and am now on my way! I've been traveling for 13 hours by train so far, and so far haven't had a hitch. I have a third and final train ride after I arrive in St. Pierres-des-Corps, but I purposely planned to stay in Tours for the night, which is only 5 minutes away. So if it comes to it, I can just hire a taxi. After all that planning and worry, everything has gone well! The plan is to spend tonight in Tours, the next two nights in Blois, and Saturday night in Orleans. Hopefully, I'll enjoy the cities, and be able to see lots of castles without running into train problems! Then Sunday, I meet my mom in Paris! I'm so excited to see her!